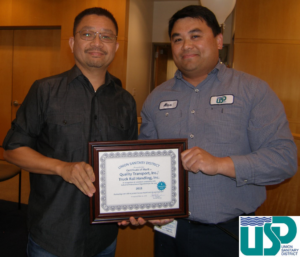 We are proud to announce Quality Transport, Inc./Truck-Rail Handling, Inc. has once again been awarded a Certificate of Merit by the Union Sanitary District in recognition of consistent compliance with pretreatment regulations for the year 2015.
Industries receiving certificates have demonstrated a consistent record of meeting or exceeding wastewater discharge requirements, operating in a manner defined to improve environmental performance, implementing waste minimization, recycling or other source reduction measures demonstrating an awareness and understanding of environmental issues and requirements, maintaining an ongoing cooperative relationship with Union Sanitary District.
Michael Paras, Director of Safety and Compliance is shown (left) receiving the award.